The ACLU depends on you! Our members and supporters provide the influence that makes us powerful, and the financial support that makes it possible to defend our constitutional rights and individual freedoms.

The ACLU does not accept government funding, and we never charge our clients for legal representation. Without your support, none of our vital work would be possible.

Click the Donate Now button below, or send a check or money order to:
ACLU of Delaware
100 W. 10th St., Suite 706
Wilmington, DE  19801



How Your Donation Helps
With your generous contributions, we are making significant gains towards:
Protecting children from extreme zero tolerance disciplinary policies in schools;
Educating the community about the flaws and biases of the death penalty system;
Preventing a narrow view of morality from being imposed on the rest of us; and much more!
Donate online now
All gifts to the ACLU-DE Foundation are tax-deductible. You can make a secure online donation right now using your credit card or debit card. Click here to make a one-time donation. To arrange a monthly gift with a recurring payment, contact Dave Bever at (302) 654-5326, ext. 100 or via email at dbever@aclu-de.org.

Thank you, for your generosity and commitment to protecting our civil rights!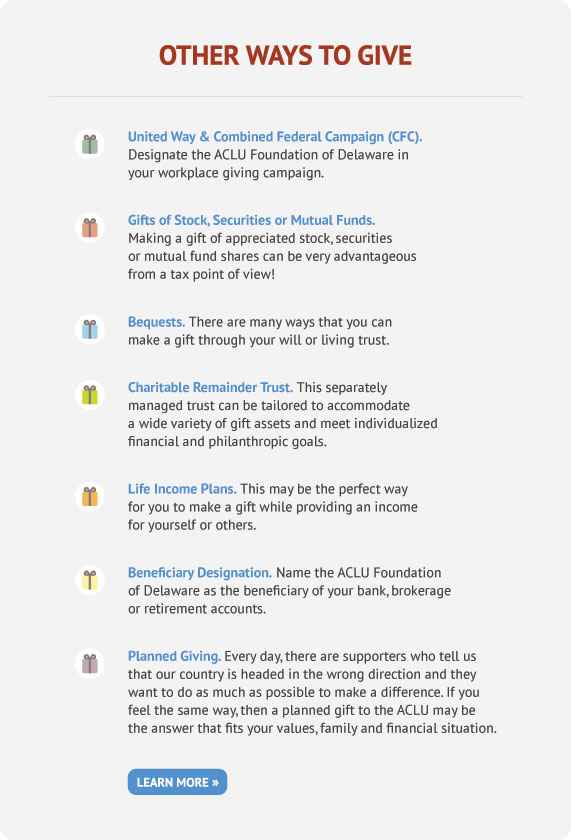 If you're interested in learning more about how we use the funds we receive, please contact us to request copies of our audited financial statements.