Kirk Bloodsworth and Shujaa Graham, two death row exonerees, will be giving public talks made possible by Witness to Innocence, The Peninsula-Delaware Conference of the United Methodist Church, and others this May in Delaware.
Bloodsworth will be speaking at Epworth United Methodist Church in Rehoboth Beach on May 4th at 7 p.m., and Graham will be speaking at Hockessin United Methodist Church at 7 p.m. on May 11th.
 About Kirk Bloodsworth
Kirk Bloodsworth, a former Marine, was charged and wrongfully convicted of the rape and murder of nine-year-old Dawn Hamilton. Five mistaken eyewitnesses, junk science, and withheld exculpatory evidence by the prosecution led to his conviction. He was sentenced to death in Baltimore County, Maryland in 1985 and on appeal in 1986 his conviction was reaffirmed and Bloodsworth was sentenced to two life terms.
In 1992, Bloodsworth obtained court approval for DNA testing of biological evidence from the crime scene. The tests incontrovertibly established Bloodsworth's innocence, and he was released and exonerated in 1993. He was the first U.S. death row prisoner to be exonerated by post-conviction DNA.
Bloodsworth now travels the country speaking for Witness to Innocence. His trip to Epworth is made possible by The Peninsula-Delaware Conference of the United Methodist Church, Witness to Innocence and Epworth United Methodist Church.
Register to hear Kirk speak. For information, call or e-mail Robert Thompson, 302-227-7743 or rthompson391@comcast.net.
About Shujaa Graham
In and out of trouble, Shujaa Graham spent much of his adolescent life in juvenile institutions, and when he turned 18 he was sent to Soledad Prison. Within the prison walls, Shujaa came of age, mentored by the leadership of the Black Prison movement.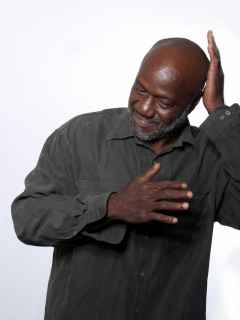 Graham was framed in the 1973 murder of a prison guard at the Deul Vocational Institute in Stockton, California. He was sentenced to death and went to San Quentin's death row in 1976; it wasn't until 1981, after four trials, that he left prison as a free and innocent man.
After learning to read and write in prison, Shujaa has become one of the nation's most persuasive spokespersons against the death penalty and has traveled throughout the United States and Europe educating the public and counseling youth.
His visit to Delaware is made possible in part by Witness to Innocence, the General Board of Church and Society of the United Methodist Church, the Advocacy Resource Team of the Peninsula-Delaware Conference of the United Methodist Church, Delaware Citizens Opposed to the Death Penalty, the Campaign to End the Death Penalty - DE Chapter, Pacem in Terris, the Delaware Repeal Project, and the ACLU of Delaware.
Register to hear Shujaa speak. For more information, contact Rev. Tom A. Pasmore, Jr. at tom.pasmore@gmail.com or call Rachel at 302-654-5326 x104. Register to hear Shujaa speak below.
 About Witness to Innocence
Witness to Innocence is the nation's only organization composed of, by and for exonerated death row survivors and their loved ones. These individuals are actively engaged in the struggle to end the death penalty. Through their compelling stories, they illuminate the unfairness and immorality of capital punishment – and in turn move citizens and public opinion more than any ordinary politician or activist can ever hope to do.