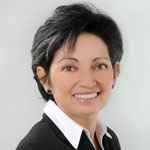 Charito Calvachi-Mateyko is a Restorative Justice international consultant, and a passionate promoter of racial justice and the Latinx/Hispanic causes and culture. She has spent her professional career studying, mastering and implementing Peacemaking Circles as an established method to promote peace and justice within society. Charito uses Circles to heal the wounds of crime, build communities and broaden cultural awareness.
A lawyer turned peacebuilder, Charito has been a key-note speaker and trainer in Latin America and Africa as well as the United States. She has had rich and diverse experiences such as being a radio show host, an author, a storyteller, and a Delaware Humanities presenter and facilitator. Currently, she is the co-host of Entre Nosotr@as Radio, supporter in part by ACLU-DE, a segment that promotes immigrant stories connected to civic engagement.
Charito is the founding member of the Latino Initiative on Restorative Justice (LIRJ), a tax-exempt organization whose mission is the dissemination of restorative justice. Charito is also the Principal of Rosario Calvachi-Mateyko & Associates, LLC, in Delaware that provides restorative justice services domestically and abroad.
She is a native of Ecuador and has dual citizenship in both the U.S. and Ecuador.