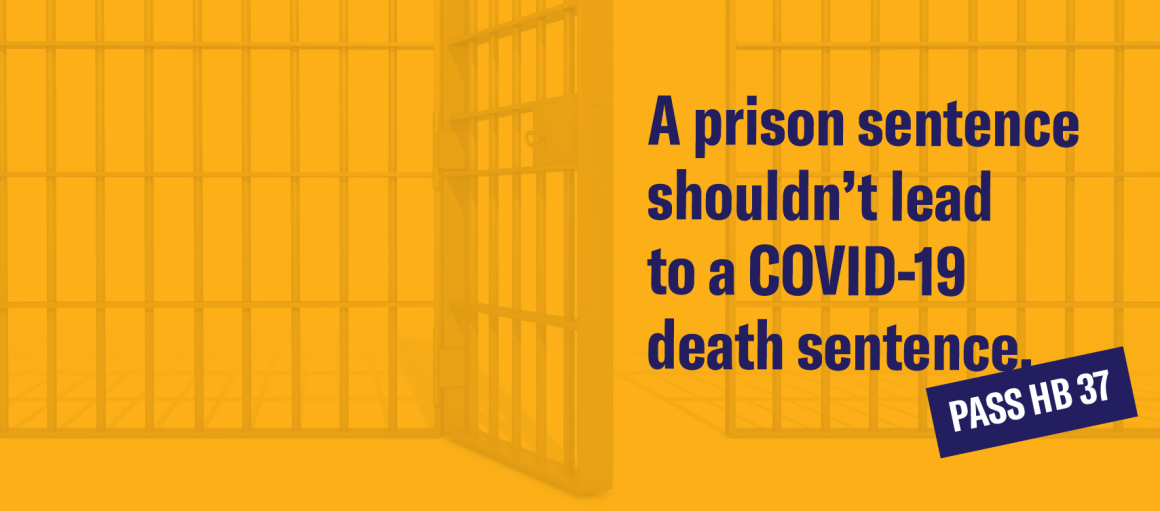 UPDATE 1/26/21:
HB 37 passed the House Corrections Committee on Tuesday, January 26, 2021, after a strong showing of support from Delawareans. The bill now moves ahead for a House floor vote; date TBD.
---
People who are incarcerated in Delaware prisons are uniquely vulnerable to COVID-19 and have been hit especially hard by the spread of the virus. A dozen incarcerated people have died so far from the virus — and the death toll will continue to mount both inside facilities and out, unless we take immediate action to mitigate this crisis. Public health recommendations have made clear one critical tactic for containing the spread of COVID-19 in prisons: expanding avenues for early release.
Senator Marie Pinkney and Representative Melissa Minor-Brown, Chairwomen of the Senate and House Corrections Committees, have introduced a bill in-line with these public health recommendations: House Bill 37, the Public Health Emergency Credit bill.
The proposed legislation would create a public health emergency credit, expanding avenues for early release from prison during times of crisis, when traditional avenues for earned credits may not be available to incarcerated people. For every month served during a public health emergency a person would receive 6 months' credit, up to a maximum reduction in sentence of 1 year. This will reduce the prison population in an orderly and fair manner, relieving pressure on staff and creating better conditions for people who remain incarcerated to socially distance and mitigate the spread of infectious diseases.
We teamed up with community partners to launch a campaign urging a swift passage and signing of HB 37. We, along with Building People Power, Campaign for Smart Justice, Campaign to End Debtor's Prison, Coalition to Dismantle The New Jim Crow, Delaware Center for Justice, Delaware NAACP, Delaware United, and Network Delaware, sent a letter to legislators on Wednesday, January 13, outlining the importance of this legislation and asking for immediate action.
Following our joint letter of support, faith leaders of Delaware and Delaware reentry providers sent their own letters to lawmakers in support of HB 37.
Read the faith leaders' letter
Read the reentry providers' letter
---
TAKE ACTION
We need your help to ensure this bill passes quickly. Please stand with us in support of HB 37 by asking your legislators to vote "YES" on HB 37 and letting Governor Carney know that this bill is important to you, too.
From day one of the pandemic, public health experts have recommended reducing the size of the prison population to contain the spread of COVID-19. We're running out of time to take meaningful action. Send a letter asking your rep to #PassHB37 now.
Our friends at Delaware United have put together a letter campaign in support of HB 37, sign it today then share it with your networks. 
Send A Letter with Delaware United
We'll keep you updated on the status of the bill and any other action items. Thanks for working with us to #PassHB37.