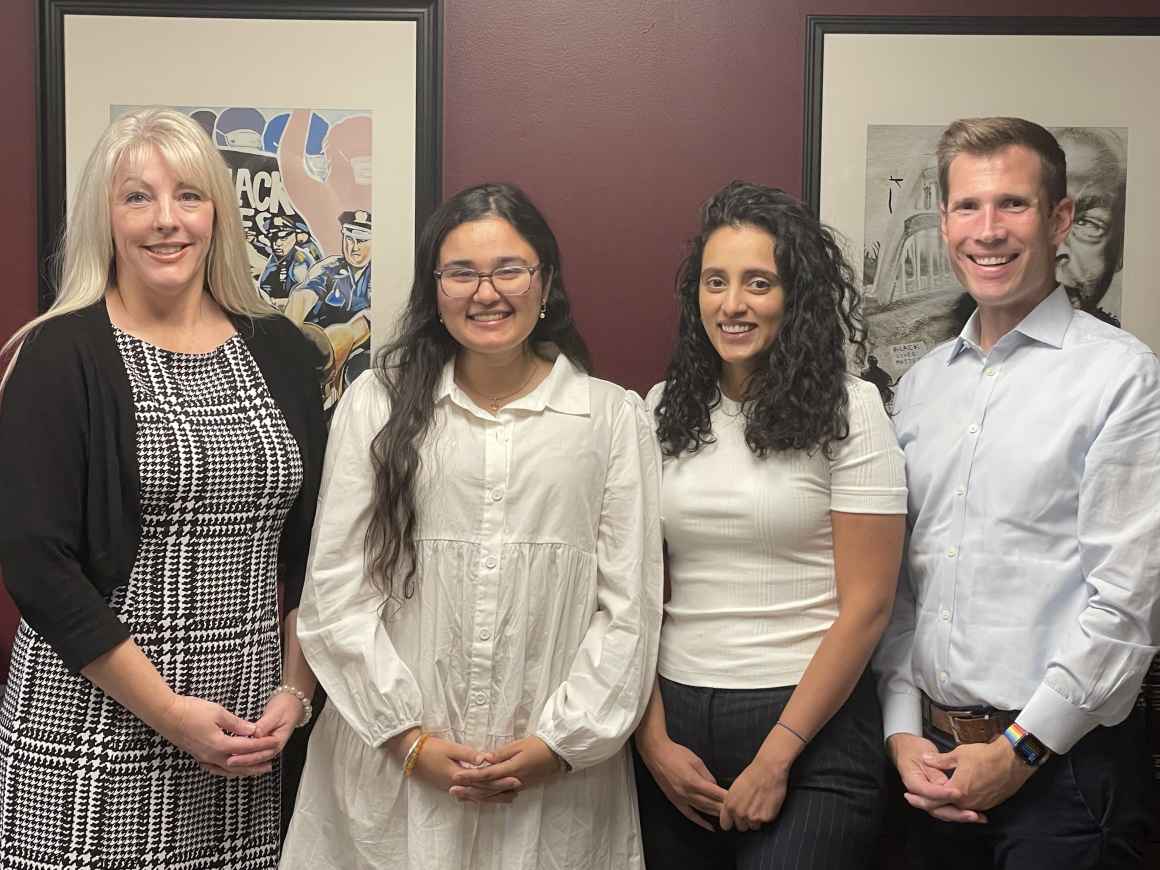 ACLU-DE's full legal team, including Charmi Patel, our Fall Legal Intern! From left to right: Katie, Jasmine, Charmi, Dwayne.
---
We started this year on the heels of filing our first complaint in Davis et al v. Neal et al, in partnership with our co-counsel Dan Griffith at Whiteford, Taylor, and Preston, LLC. The historic lawsuit aims to end a long pattern and practice of alleged abuse at Sussex Correctional Institution — and once we filed, word spread quickly. In February, in response to an overwhelming amount of intake related to this case, we filed an amended complaint to include a growing number of plaintiffs and defendants. After that, the intake didn't slow down. In July, we filed a second amended complaint that brought our list of plaintiffs to 39 and significantly increased the number of named defendants. We're closing out this year waiting on a response from the Court on the defendants' motion to sever and partial motion to dismiss, and we hope to have an update on this case early next year after our team begins discovery.
In March, we presented oral argument in the U.S. Third Circuit Court of Appeals on behalf of the late Angelo Clark in Clark v. Coupe. Angelo had a serious mental illness and was housed in a Delaware prison. During his time there, he was placed in solitary confinement by Department of Correction (DOC) officials for seven months. This violation of his Constitutional rights caused severe and irreversible harm to Angelo, who passed away before he was able to finish his fight for justice. In partnership with co-counsel Chad S.C. Stover of Barnes & Thornburg LLP and Michael J Broadbent of Cozen O'Connor, we asked the Court to take action so that no other Delawarean has to live through the same experience. We await a ruling in this case, and will publish an update when it becomes available.
In August, we stepped in on Overington v. Fisher et al, a free speech and freedom of expression case. Kari Lynn Overington's "FCANCER" vanity license plate was approved and issued by the Delaware Division of Motor Vehicles (DMV) and then later recalled citing that the plate "does not represent the division or the state in a positive manner." Kari attempted to advocate with state officials to allow her to use the FCANCER license plate – to no avail – and followed up by filing a lawsuit on her own behalf. After the U.S. District Court denied the State's motion to dismiss, Kari asked us to join her in this fight, alongside Terry Loscalzo, Arleigh Helfer, and Alison Gutierrez of Schnader Harrison Segal & Lewis LLP, and we responded with "we're DTF" (down to fight!). Although trial is not scheduled until February 2024, we'll keep you posted on discovery and dispositive motions filed in the coming year.
In addition to these three cases, we're working behind-the-scenes on dozens of other matters, covering issues that range from disability rights, reproductive freedom, LGBTQ+ rights, voting rights, and more. Stay tuned on all of our litigation updates at aclu-de.org/litigation.
We're excited to bring this momentum into 2023 — we remain dedicated to tackling the legal fights that will ensure your civil rights are protected. For now, we'll leave you with one last sneak peak at the year ahead: ACLU-DE is bringing on a new legal team member who will focus on expanding voting rights! We look forward to introducing him when he joins us in the fall of 2023.
Thanks for your continued support of our legal work,
Dwayne J. Bensing, Legal Director
Katie Prevost, Staff Attorney
Jasmine Minhas, Paralegal